" AHH" yelled a girl. Can you guess where I was. I was at a Carnival with my relatives. For two weeks I spent the holidays with my aunty, uncle and cousins. One evening we decided that we should go to visit the Summer Carnival at Mt Maunganui. I was excited because I have never been there and there are different rides there too.
A few days went by and it was finally time. It didn't start till late so we visited my aunt's house. They were also coming to the Carnival. When we arrived we bought our bands. The bands let us go on any rides except this big ride called the " Turbo Blast ". The first ride we went on was called the Ferris Wheel. My cousin and I sat in a seat. The ride finally started to rotate. Once we went up we could see the pretty view. Since it was the afternoon you could see the sun setting.
The second ride we went on was the Tornado. We sat in medium sized cart that went up and down and round and round. It went faster every time until it came to a stop.
That ride was fun, but if you go on it a lot you may start to feel sick like me. The next ride was the Pirate Ship. I bet many of you have been on a Pirate ship at amusement parks. It was fun because it gives you butterflies. The next on was probably the best one for me. It was called the Zipper. A red and yellow ride that spins in all sorts of directions. It can hold up to 2 people. So my cousin and I hopped in. Your sorta standing but if you're tall then your sitting. It takes you in the air and rotates. The sound of the chains makes you feel uneasy, but luckily no one got hurt.
The next one was called The Ghost Train. You ride in a cart. You can choose to sit by yourself or with someone. Later on the cart get's split up and one at a time goes into the maze. It was very loud but didn't get much frights. Round about now I started to feel a bit sick. The next ride wasn't so bad though cause it was Bumper Cars. That ride was fun but then I started to feel a little hungry. So I ate a hot dog. After that I didn't want to go on anymore rides, but then my cousins encouraged me to come with them. So I tried a few more rides.
I saw two of my cousins playing some games so I played this one game. I won a necklace. It started to get dark so we were about to go home, but before that some of my aunty, uncle, and cousins wanted to try the Turbo Blast. This one is paid separate. Four at a time people. Two on each side. Four at the top and four down the bottom. One of my aunty's even tried it and so did my uncle. Seeing the ride go round and round looked a little scary so I didn't try it. After that we decided to go home and eat.
The end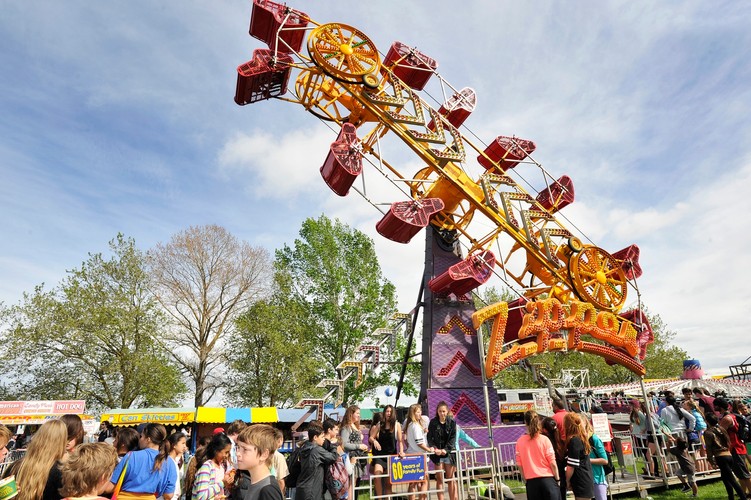 The Zipper ☝
Link to photo